DL-200 Display Test and Recover Device for iPhone 6s to 12 Pro Max
Brand:
Tools
Product Code: REP3674


Availability: In Stock
Price: AU$559.20
DL-200 Display Test and Recover Device for iPhone 6s to 12 Pro Max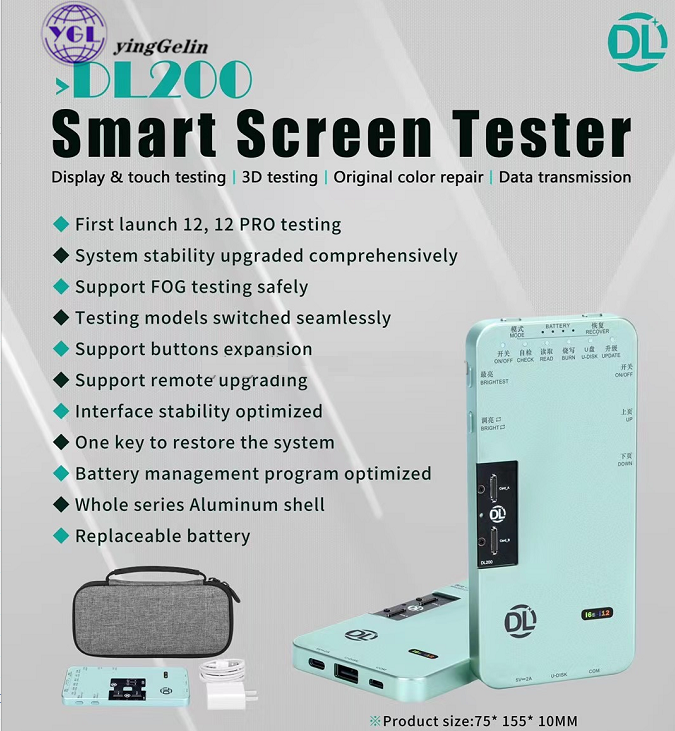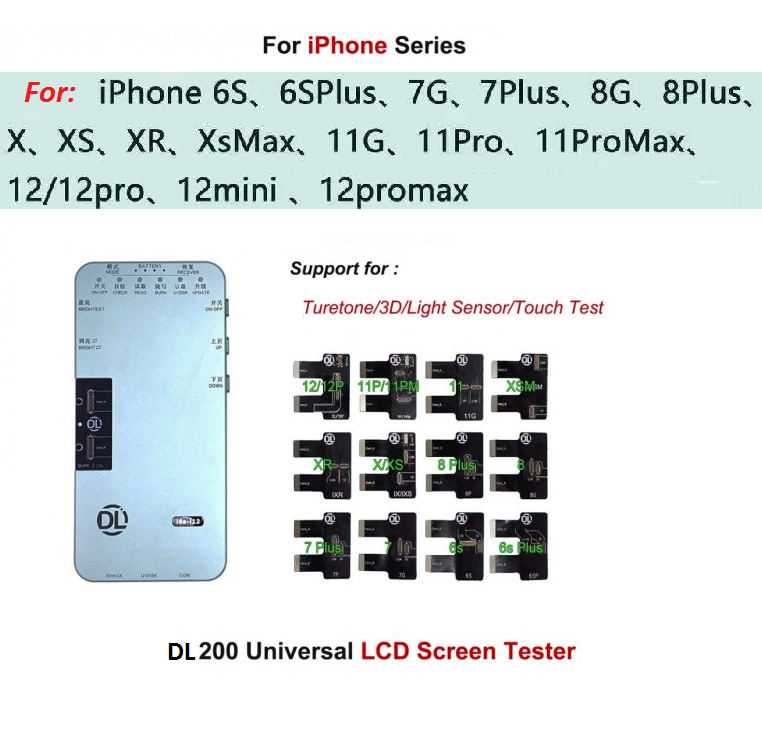 DL200 LCD Tester For iPhone 12 pro 12 pro max 11 promax to 6S 7P touch Screen Test Ture Tone Data Recovery Phone Repair Tool Set
Features:
1 .This tester is very easy and too much cheaper than Testing motherboard,one device will help you save a lot money, you
don't need to buy motherboard for each model.
2 . Main Functions:
a. image test
b. touch test
c. 3D touch test
d. flip test
e. brightness test
f. data recovery (light sensor and original image color calibration)
Features:
1, a machine test multiple types of display modules: I6S I6SP I7 I7P I8 I8P IX IXS IXSMAX IXR I11 I11P I11PM I12 I12M I12PM;
2, display test: display multiple test pictures to detect display problems;
3, click wake-up: when the phone is black, you can light the screen by tapping the screen. In the test box black display screen, tap the screen to light the screen to test this function;
4, touch test work: automatic detection of hardware is good or bad, through the edge line to comprehensively detect the quality of the touch sensor, single point cross detection of any position touch function;
5, 3D Touch test: can test full-screen pressure at any position, pressure grading test;
6, adjust the screen brightness: adjust and view the screen brightness, test the stability of the screen brightness display;
7, automatic test screen flip cover off function: Apple original flip cover with the screen to use, automatically brighten the screen when flipping, automatically off when the cover is closed; this test box can automatically test whether the screen can match the original Apple Use with a flip cover;
8, restore the original colour and automatic brightness function; repair the original colour display of the screen and automatically adjust the brightness data, the new screen is installed after the shell automatically adjusts the brightness and the original colour display.
Package Included:
1x LCD Tester
14pcs x flex cable(iPhone 6s-iPhone 12 Pro Max)(e.g. 6s 6sp 7G 7P 8G 8P X/Xs Xr Xsmax 11 11pro/11pro max 12/12mini/12pro/12pro max each 1pc)
1x Lighting Cable
1x Charger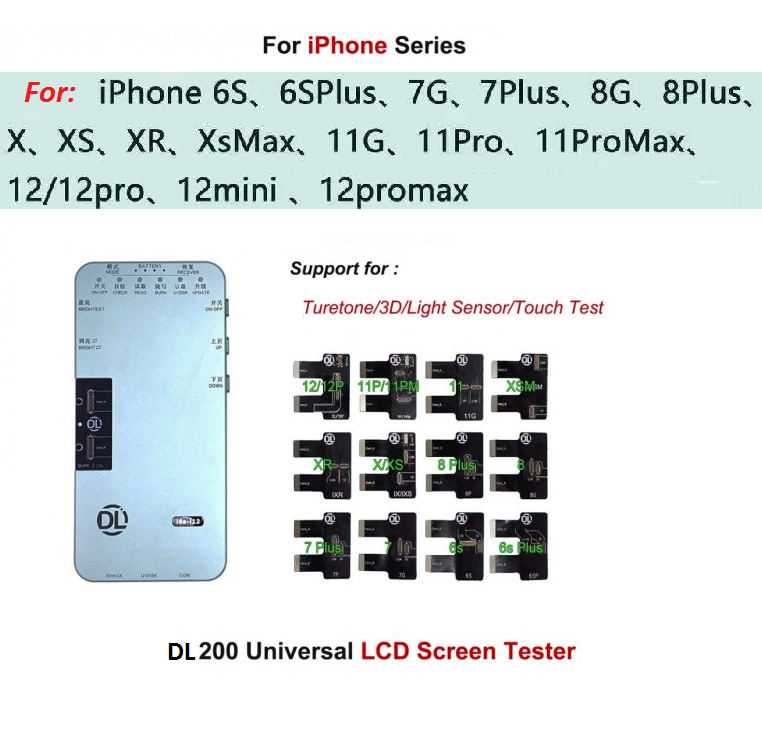 Tags: jcid, v1s, mobile, phone, code, reading, programmer, iphone, max, parts dl-200, display, test, and, recover, device, for, mini, (5.4 (5.4 (5.4 (5.4 (5.4")